My projects, so far...
I lied, I'm still obsessed with knitting. It's good though that I can switch back and forth to scrapbooking, zoo-wrangling*, dog rescuing**, house cleaning, general laziness, or law studying.
So here's my second project. I knit this around Christmastime, for my here-any-moment niece, Evie Michaela. She's the first grandbaby on both sides of her family and the first niece on both sides, so she will be SO spoiled. My youngest sister, her mom, Lindsey, is the one who forced me to knit. She is a cloth diaper fan, as am I now, and she said someone in the family had to learn to knit so they could make soakers. So this was my first soaker. The second one was in a blue colorway and looked just like this except there is not a purl rip in the middle, just at the "kitchener"*** join.
It's from this
pattern
. The knitting was top down on circulars, which I was frightened of at the time. After that I was frightened of DPNs, which I also got over. Now I'm frightened of cabling. Hopefully I'll tackle that knitting phobia soon. :)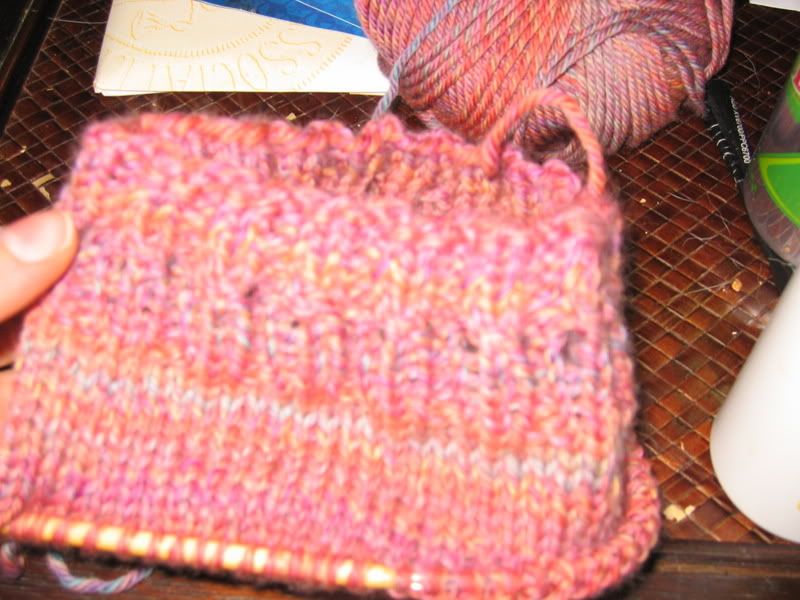 You can see where I twisted the ribbing in this photo.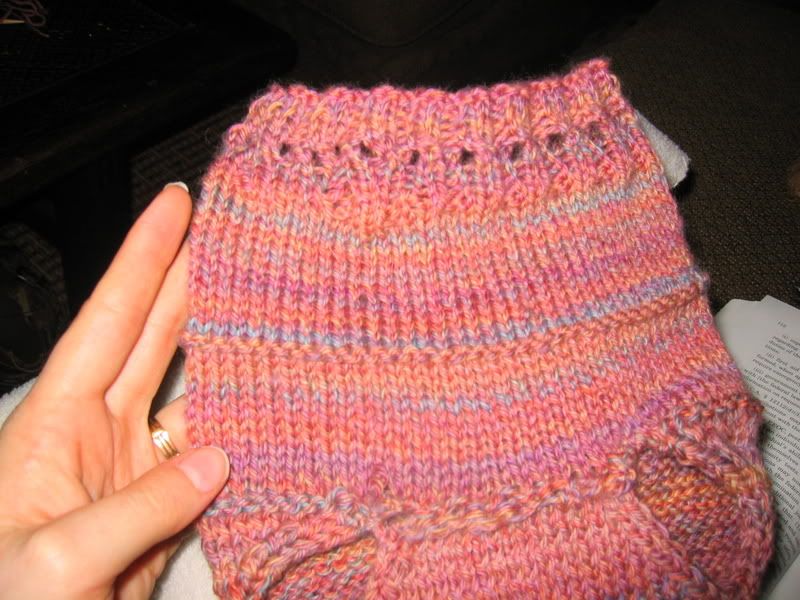 And here's the finished product. The two bumpy purl rows were not intentional. I accidentally knit on the purl side while talking to my mother on the phone on the top purl row. The second purl row is my kitchener. Yikes. And yes, the leg holes are uneven. Still, for a newbie knitter, it's not bad.
Before the soaker I knit a hat in Misti Alpaca. I just don't have any photographic evidence of it, yet. It's cold enough today..in APRIL, in ARKANSAS that I might pull it out of storage. Brr. After the soaker I knit a short scarf (I'm impatient) another Misti Alpaca hat for my husband, another soaker, a Kitty Pi (photo in the mash of links below) about four Calorimetries, and I have a sock in progress, a soak to rip out, and some longies in progress.
*We have two dogs (
Ace
, a 90 lb Akbash <--think
white Labrador Retriever
with some extra hair and a
curled tail
, or google, they're
gorgeous
, and
Tick
, a 55 lb
black Labrador Retriever,
who
came to us weighing 20 lbs at 6 years of age, and covered in ticks...
bless his heart
) and two cats (
Mr. Lulu
, who is a male
Maine Coon
who sometimes is cut by the groomer to look like a
lion
, he's from Spain where a friend brought
him
back after serving as an au pair for her college professor's family, and
Polly
, a little
pretentious
grey/brown tabby
girl
). I refer to all four collectively as "the zoo". Most of my dreams of perfect colorways are inspired by my cat's coats. Someday I'll find the perfect brown, grey variegated sock yarn that reminds me of
Polly,
and laceweight that goes from black to brown and back like Lulu.
**I am the President of
Arkansas Labrador Rescue, Inc.
(those are the dogs we saved last year in a collage, they're all adopted). Our website is
here.
***My first two kitchener attempts were so bad they looked like purl rows. I am the type of knitter to not rip it out and fix it, but I leave it. Would you call that organic, or just lazy? I think you can definitely see where my knitting has improved.