A Photo Dump
Does anyone else ever have yarn envy? Maybe stash envy would be a better term. I see blogs of fellow knitters with brands I've yet to fondle and I turn a little green. Someday...
So here's a catch-up post. My first ever project isn't pictured yet. I know once I haul the alpaca hat and scarf out of the closet I will want to wear them. In April. So I'm putting the insanity off for just a bit. My poor neighbors are really going to wonder.
Here is a Calorimetry in Manos del Uruguay Stria. I HATED this yarn. It has a natural wave to it, which makes the knit stitches and purl stitches hard to distinguish. However, it wears so so soft. I'll end up buying more and knitting baby stuff out of it, I'm sure. I did this one in grape, bought a skein of the pink and did one pink and grape and one solid pink. Then I made an elf hat out of the rest of the pink. Picture of that to come...
The socks. These are my first socks. I took a class at my LYS that my husband bought me for Valentine's Day. The socks are still not done. Here's why: I invented knitting. No, seriously. I had my own version of knitting before this class and didn't know it. So the first sock (the smaller one in the second picture) was knit using my own knitting method. This method involves twisting the stitches tight and backwards with the yarn in the left hand. My LYS mentor set me straight, so the second sock on the sticks is done the way normal people knit. The small sock will be frogged and redone. The yarn is Colinette Jitterbug in Lagoon. I love this yarn.. Thank goodness because it's been two months of knitting...
Finally, we have the longies for my niece Evie. Seed stitch trim, simple 2x2 rib, on circs first, then DPNs. I had a slight crotch problem (teehee!) that I think I know how to fix next time. I made two small holes when I kitchenered. The yarn is Sheffield Odyssey, also ridiculously soft. It will be interesting to see how this washes. My sister is using it for cloth diapering. I wanted to make a matching sweater but won't because it's April, and I don't think I have enough yarn left. I might do another elf hat.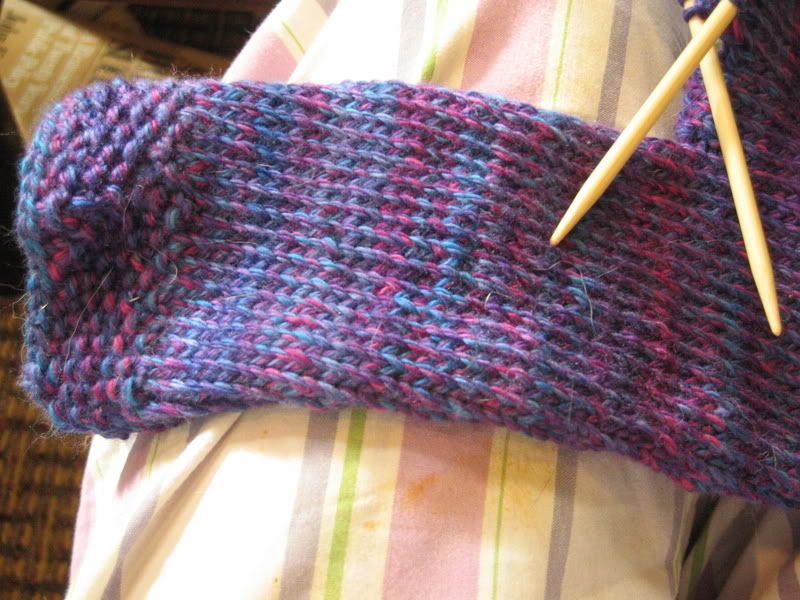 Here's the knitting basket. There's more Collinette and some Lorna's Laces waiting to be socked.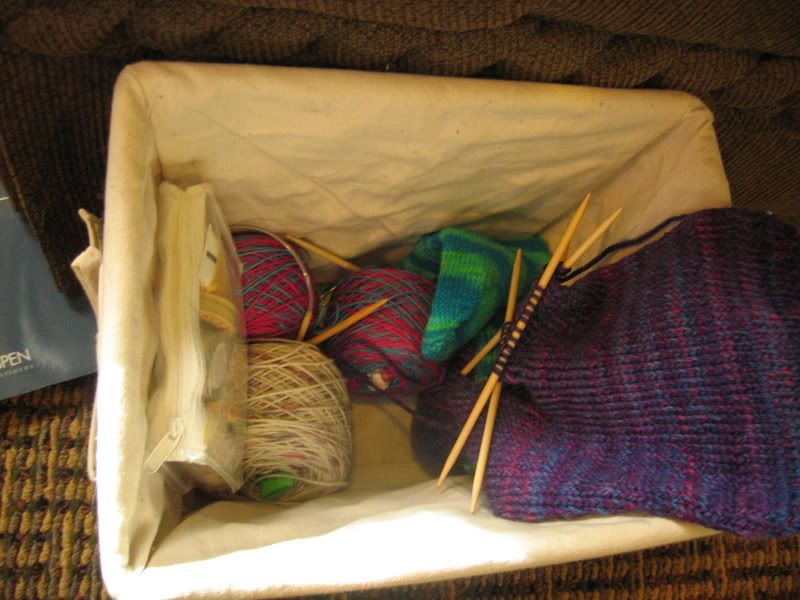 Here's my yarn financier. And husband. His shirt says "Trust me, I'm a Ninja." I wouldn't trust him, even though he is a ninja.